Soil Physics Laboratory
Phone:
+55 (19) 34294123 ou 34294283 r 209
Docente com atividade em conjunto: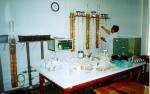 This laboratory makes determinations of the retention and transmission of water in the soil. For this it uses pressure chambers with Porous Plate, Funnels  and Sand box, for elaborate the water retention curves in soil samples with undisturbed structure. Tensiometers, neutron probes and other measuring equipment of the water content are used in the soil hydrodynamic studies in the field.